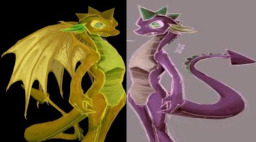 Source
(please read entire description)
(News: first prelude 'Unreconciled' is being written for release before chapter 3)
After nine relatively peaceful years in Ponyville, Spike falls into hibernation and a protracted nightmare.
Upon awakening, the uncertain future of the World is thrust onto him by a message from the Great Teacher, Starswirl,whom may yet live.
The Royal Sisters are trapped in conflict with a Draconic entity capable of destroying the universe.
All the while, Spike and the Elements of Harmony each must seek out powers and wisdom rooted in the origins of the world.
They do this in hopes of overcoming a foe that roils the black and starry depths of the very heavens.
In their absence, the former CMC and the uprising youth of Ponyville grasp power in the midst of possible griffin invasions from the Avian continent.
[key: Telepathy; Thoughts; EMPHASIS in dialogue ; Magic Spells/Special Abilities ; * marks objects or facts related to side stories]
NARRATIVE BRANCHES
(Chronology of back-stories in the Machi-verse)
<prelude>"The Wyrm Has Turned" [un-posted]
<prelude> An Astronomy of Souls [un-posted]
<prelude>Waiting For Galaxei [un-posted]
<prelude>Too Far From The Tree [un-posted]
<cross>Appleseed Hill [un-posted]
<cross>Gambling in the Dust Trough [un-posted]
<cross>Absolute Defense [un-posted]
[credits]
Cover: dsurion (http://dsurion.deviantart.com/) edited: Muzzledelk
editor/illustrator Credit:
AwSweetHolyHell, Frees,Quisky, Karon, lordlyhour, Samaru163, genocidal brony...
all other contributions are credited within the work.(all art use has been permitted by the respective creators.)
Chapters (3)