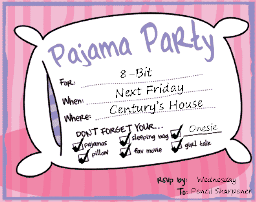 Junk food? Check. Fizzy drinks? Check. Piles upon piles of various games? Check.
In theory, nothing should have gone wrong. Simple plan really, a bunch of friends round for a slumber party, what's the worst the worst that could happen? As it turns out, a lot can go wrong when you live in a crazy town like Ponyville...
---
Warning: This story is heavy on OC's. If you have any OC related allergies, illnesses, ailments, intolerances or disorders, it is advised for your own health that you avoid this story. Either that, or lighten up and stop being such a killjoy.
Set prior to the events of the Season Four finale.
Written for the UK of Equestria Monthly Fimfiction Writing Contest number #001! This months theme is Slumber Party, so my idea was a bunch of peoples OC's from the UKofE forums gathering round for an epic slumber party. Of course, we're British. So things may start out being fun, but they inevitably get a little out of control when something happens to somepony in particular...
Competitors:
Button Mash Goes To A Slumber Party ~ by GeodesicDragon
One Hell of a Party ~ by Loganberry
The Slumber Surprise ~ by Mickwho123
Sometimes Never ~ by Blueshift
Chapters (2)