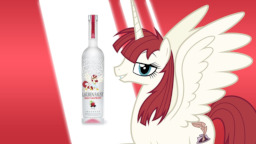 Silly One Shot (because high on pain pills)
The Creators of the world; they write the scripts, they choose the setting, and they decide the fate of Equestria.
But how does this process work? Where do these ideas come from?
And who's idea was it to turn the main six into fairies!?
Well it certainly didn't involve an Alicorn Goddess and a bottle of vodka, no sir...
*cough*
So join us on this journey into the unknown realm as we enter the FIM Zone.
Ot at least the creative process of beings "beyond" our understanding...
Also Lauren Faust FTW!
(seriously though, its a one shot, do you want me to just describe the entire story in the description?)
Cover art by 4Suit, who basically didn't deny my use of this.
Chapters (1)