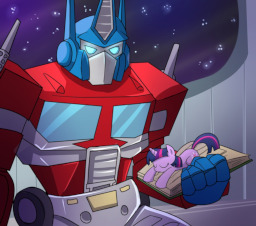 After messing up an advanced teleportation spell, Twilight creates a vortex that sucks in her friends, but returns large, robotic creatures known as Transformers. Now, with Decepticons let loose in Equestria, Optimus Prime and a small team of Autobots must find a way to stop them and return them all to their Earth. Rarity, along with Spike, Pinkie, and Trixie now find themselves in the world of the Transformers, and must find a way to return to their own home
This is a collab between me and sammy-jack. For undisclosed reasons, he has decided he can no longer work on this story with me. So, I now have him only as a consultant, I'm going to republish the first three chapters and then get to work on the rest. This might explain far apart chapters.
Story takes place after episode 18 of season 2 of Transformers Prime. Please enjoy!!!
Chapters (6)