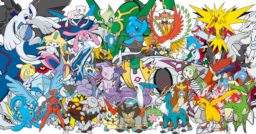 Hello there. My name's James, and I'm a Metagross.
Yes. A Metagross. As in, the Pokemon.
Myself and five other acquaintances with varying degrees of friendship appeared here in Equestria quite some time ago, having all been transformed into Pokemon for some hereto unknown reason. The process of our reuniting was difficult, and we didn't get a happy ending, but we went our separate ways as friends brought together through extenuating circumstances.
Now, after being woken up from my oh-so comfortable hibernation by one of Princess Celestia's messengers, I find out that there's new, terrifying creatures terrorizing Equestria and even some of the lands beyond. By some of their descriptions, I have an inkling of what they might be.
Guess who's put in charge of cleaning up the mess.
Sigh.
Time to get the gang back together again.
---
This is a direct sequel to the story A Pokemon Problem. It is highly recommended, albeit not necessary to read that in order to understand this story.
Will write for a better cover image!
Chapters (6)