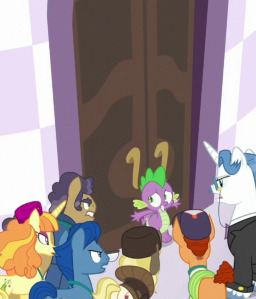 Source
This story is a sequel to The Man With Two Names
---
For the past year, Jeremiah Walker has wandered Equestria in the company of Trixie Lulamoon, seeking atonement and passage back to his own world, unsure if he will ever find it.
For the past year, Loose Leaf has investigated the events surrounding the human's disappearance. He releases a full report of that night's riot, a story Ponyville isn't quite ready to hear.
For the past year, Spike has built a fledgling movement in Ponyville, fighting for non-ponies' rights to citizenship. The tales of prejudice in Loose Leaf's report invigorates the campaign, but draws opposition to the growing cause.
Now that the report is circulating across Equestria and their cover blown, Walker and Trixie march onward to the newly emerged Crystal Empire, following the only lead he has back home. There he runs into the frantic Twilight Sparkle, the pony who urged along his departure from Ponyville, and now needs his help to save this kingdom. Alongside her is Spike, who recognizes the human is just the figure his movement needs.
Chapters (5)