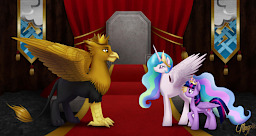 Tirek. Discord. The Changelings.
The ponies have faced all these threats, and triumphed, but things could have been handled better. Princess Celestia knows this better than most. She knows that to face threats even greater than Tirek, greater than Discord, the ponies need allies. They need friends to turn to when the chips are down and the mad gods and cruel tyrants are on the horizon
She and Princess Twilight Sparkle travel to the Griffon Kingdom to meet the Griffon King. They seek to negotiate a formal treaty, something more than a rudimentary "You stay in your yard, we'll stay in ours." If the Changelings invade, or Tirek is once more a threat, it will not only be the ponies standing against them, but the griffons as well. It's only logical, after all. The griffons and the ponies share a border. They share ideas. They share refugees and concepts and cultures. And there haven't been any major hostilities since the Pony-Griffon War. That was almost a thousand years ago.
It is logical to enter an alliance, but politics aren't always about logic. Sometimes they are about past crimes, mistakes, and tragedies. Sometimes, past grudges simply can't be let go.
(Rated Dark and Teen for some disturbing content, though nothing too heavy or overt)
Coverart from Pie on furAffinity
Chapters (1)