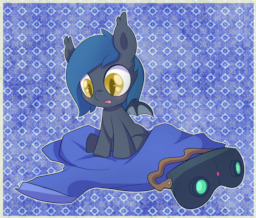 Source
Supervillains are always hunting for mystical ancient artifacts. I can back that up--I worked for one.
Emphasis on "worked." We were probing yet another long-abandoned underground city when my employer finally found the fabled Sphere of Meganacus...only to find it wasn't exactly friendly to humans. Now my boss, my best friend, and my worst enemy are all tiny sentient horses. Yes, I really just said that.
Did I mention they're a lot younger, now, too? God, I need a drink. I hate babysitting operations.
Set in the same universe as "Someone Came With Her."
Chapters (3)