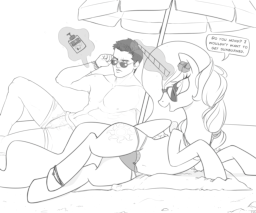 Source
You are Ted, a human who has been trapped in Equestria for a while now. Under the advice of your pony friends, you've come along to join them in one of Pinkie's summer beach parties. While the ponies play their games, you were just planning on simply relaxing and enjoying the rays of the sun. But after watching the ponies play under sun in swimwear, some mixed emotions are brought out inside you. Have you been trapped so long in this world that you were starting to find your pony friends attractive?
Things get even more complicated for you when a pony you were not expecting showed up beside you. And she asks for a favor of you that you'd never thought you'd hear: help her put on her sunscreen.
But she's Princesses Celestia! The goddess of the sun! Why would a goddess like her need sunscreen?
---
Story inspired by the art of Tex. Lucky, lucky TexAnon.
Chapters (1)