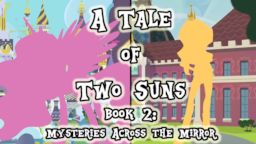 Source
This story is a sequel to A Tale of Two Suns, Book 1: The Two Suns
---
Sunset Shimmer's life has taken a rather large turn since her "mother," Sunny Skies, came to Canterlot City. But while Sunset's problems with Child Protective Services may have been solved, life is not exactly calm for the ex-unicorn.
While Sunset and her friends try to deal with a new round of troubles amidst school and average teenage life, new and terrible dangers rise on the other side of the mirror.
Disclaimer: I don't own My Little Pony Friendship is Magic or any of it's characters. I'm just a fan.
Cover art done by my very good friend PrettySoldierPetite.
Proofread by Dragon of Shadows
Pre-read by Setokaiva
EDIT: Now with a TV Tropes page
Side Story
Swimming Lessons
Chapters (5)