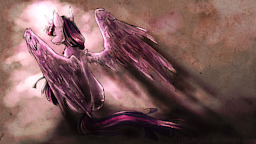 Twilight's ascension to the throne was supposed to be a joyous occasion, but as the months have passed and the shadows of the world grown a little darker, the lessons of her mentors and the weight of her responsibility has done nothing but made her more uncertain about her ability to rule.
Now, on the day of a grand gathering of nations, an attempt on the life of one princess and the abduction of the other brings with it an old foe and the weight of the world. With the fate of empires resting on her shoulders, Twilight must undertake a grand journey into the heart of madness and the untold history of Equestria to save her princesses and the world entire...
But save them from what?
---
Featured on Equestria Daily 10/12/13
I am humbled once again to be assisted by the brilliant RainbowDri in bring this story to fruition. I couldn't have asked for a more insightful assistant or all-around excellent guy.
Coverart supplied by the extremely talented dreampaw (Power leads to corruption). I can't thank her enough.
Chapters (7)