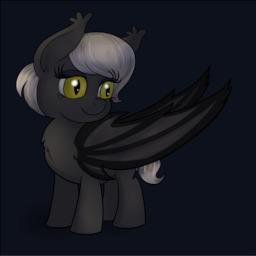 A continuation of "Jake and the Kid"
Warning.
You really need to read that story first.
Goose Down wanted to be a Guard Pony more than anything else in her life, just like her Father, numerous uncles, and six big brothers. Unfortunately she was small, a Nocturne Mare, and, oh yes, had a phobic fear of the open sky.
Combined that with her mistake of getting in the wrong job application line at the palace and ending up a maid, things look very dim indeed in regards to realizing her dream.
On the plus side, she works for the Princess of Dreams. So maybe, with a little help from her friends, and a very different type of princess, she will manage to achieve her heart's desire.
With a few minor modifications.
Proofed and contributed to by Georg, who also graciously allowed me to steal some of his better characters.
Be sure to catch his, latest Nocturne story, Diplomacy by Other Means.
Chapters (9)