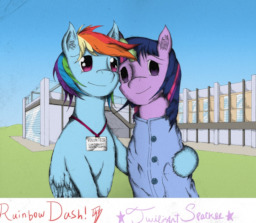 This story is a sequel to Unwell
---
Twilight Sparkle is not well.
After the incident in Ponyville, Twilight has been moved to the Canterlot Mental Hospital, a top of the line care facility. Rainbow Dash has moved to Canterlot as well, to be there to provide support to Twilight.
Along the way, she will learn things about Twilight that she didn't even know she didn't know, as well as meet important ponies from Twilight's past.
Twilight Sparkle is not well. But there is a plan for her and she is recovering.
The thing about life is, it never quite goes according to plan.
---
This story is a sequel to my other story, Unwell.
As a result, it won't much sense if you don't read that one first.
Cover art by dreamingnoctis. Check out his user page here.
Chapters (7)