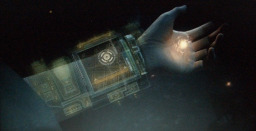 Source
Discord, queen Chrysalis, and king Sombra leave their animated world in search of an eaiser conquest. But as they make the jump into the nearest universe, they accidentally activate a failsafe designed to prevent trans-dimensional joyrides. As the Particle Accerelation Reality Transfer comes online, it chooses a host. A human host.
The P.A.R.T. alone holds too much power for one being alone. And that's why it's not just a device.
It's sentient. And it has quite the personality.
Chapters (12)