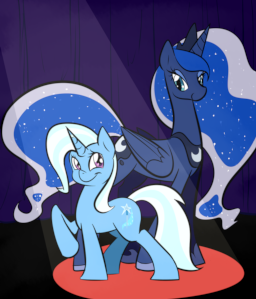 Source
Princess Luna, a mare history has long since scorned, always playing second fiddle to her older sister.
Trixie Lulamoon, an egotistical trickster of a mare, hated by Ponyville and most of Equestria for some tricks that got out of hoof.
Both mares, different in almost every way except for just one thing: they want to show the world that they belong. All they did was crave love and admiration, but instead they were cast aside and looked down upon. Together, maybe now they can show everypony their true potential.
Cover art by Graphic-Lee
Edited by Phaoray
Idea's bounced off The Great Eater
Chapters (26)