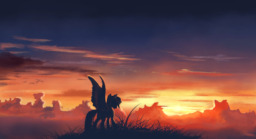 Source
Flight...is a magical thing. And yet no unicorn can truly replicate the beauty of a pegasus tearing through the skies upon a pair of majestic wings.
---
Soarin is approached by Spitfire with a burning question.
Spitfire has lost sight of what she saw in flying. She had betrayed him, a teammate and close friend, for the sake of winning a competition. Confused, she turns to him, and asks him a question that has too many answers:
"Can you remind me of what it means to fly?"
---
Written for week four of EqD's Writer's Training Grounds. The prompt: "What's it like to fly?"
Written at like 1 in the morning. Don't judge; a sudden thought popped into my head and I had to write it down.

Chapters (1)