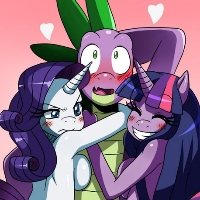 After leaving on a second pilgrimage to find himself, Spike returns to Ponyville, physically larger and sporting an impressive array of skills and powers.
His plans for a calm life in Ponyville, however, takes a different path as he soon finds himself the desire of several ponies interests, friends old and new included.
Change breeds benefits, as the saying goes. Spike has yet to hear it ring true.
Chapters (1)