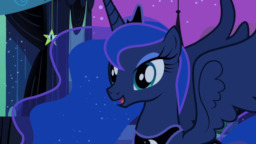 Luna has returned to Ponyville again to enjoy the festivities that are being taken place, since her last visit to Ponyville for Nightmare Night, she wishes to bring something for the people of Ponyville while enjoying the holiday.
A surprise that they never expected.
This is for fun and in the spirit of Halloween(Or Nightmare Night). Added Random tag just in case. With a Random appearances in the end and in the Authors Notice.
Chapters (1)