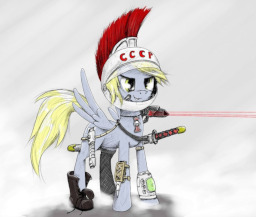 World-Jumper. Tibirus. The Black Knight. Jericho. These are many of the names given to the Agent of the Dragon-God Enoch. He has spent thousands of years voyaging the multiverse, exploring countless worlds and fighting alongside many heroes, becoming a walking embodiment of destruction and justice.
After another successful mission, Enoch comes to him with a surprise. Destroying a fallen world? No. A crossover-merger needing oversight? No. Protecting a collection of brightly-colored equines? Yes... Really?
While this world is a bit peaceful for his taste, he finds the inhabitants to be rather endearing. But as old memories and old enemies emerge to wreck everything he has ever achieved, can his new "friends" help him? Or is the burden of immortality finally going to catch up with him?
Inspired by Ominus' Travels: Equestria and other multiversal fics. Image is the theme of the main character.
Chapters (1)