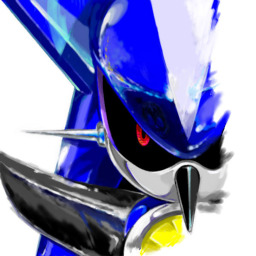 Source
(Anthro)
Sonic, Knuckles, Tails, and Shadow-along with Angel Island-are blasted by Doctor Eggman to another dimension. Now trapped there, how will they cope in a world of humanoid ponies?
Not all things are peaceful-as an old enemy has been sent along with them.
What happens when Metal Sonic works on becoming the Metal Overlord of the Metal Empire....and decides a dragon we all know and love would make a good tool of terror....the first servant of the Metal Empire to be freed from his prison of flesh....
(Starts right after "Return of Harmony")
Pairings (will be developed slowly):
Sonic+Rainbow Dash
Spike+Rarity (+?)
Knuckles+Applejack
Shadow+Twilight (as voted)
Tails+Fluttershy (as voted)
Chapters (8)