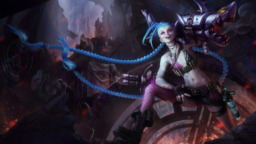 Source
Jinx is Piltover's Most Wanted. A dangerous, remorseless, destructive woman to whom "fun" coincides with "explosions" and "body count."
So, of course, she of all people is the one to find a portal to another world.
Equestria is a land of peace and harmony. Crime is practically nonexistent in the land of the ponies, and any major threats to the peace are dealt with by the Elements of Harmony.
So, of course, this is the world Jinx ends up in.
Will Equestria survive a woman whose favorite pastime involves fire and death?
Will Jinx survive a world where the greatest weapon is Friendship?
Only time will tell.
Author's Note:
I'm flying by the seat of my pants with this one. Wish me luck.
Feedback of all kinds is greatly appreciated.

Read on,
Legion
Cover art is the Jinx splash art, property of Riot Games.
On Hiatus for a total re-write.
Chapters (2)