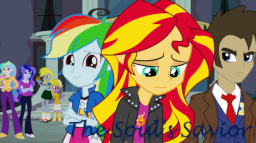 Source
Currently under rewrites. Rewritten chapters edited by thehalfelf.
---
The Fall Formal sees Sunset Shimmer defeated and dethroned as leader of Canterlot High School. Desperate for redemption, she lacks anyone to turn to for help - except the five girls who's lives she tormented. Does she deserve help? Does she deserve friendship? Rainbow Dash seems to think so.
Meanwhile, Time Turner, a teacher at Canterlot High School, watches Sunset's progress from afar. But he too is desperate for redemption - but for what? Who has he hurt, and why? How is his story connected to Sunset's?
---
Cover art generously provided by Draconaquest!
---
Chapters (26)