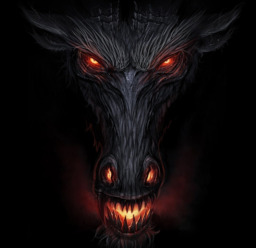 This story is a sequel to Why No One Messes With Luna
---
Shepard has done the impossible. Old foes have set aside their differences, new friends have come into the fold, and the galaxy is more united than ever before. But the Reapers care not for the new alliances they face; they will fall, as countless civilizations before them fell. It is inevitable.
There is still hope. The Crucible, source of unimaginable power, has been constructed by the allies. With this new source of hope in tow, the allied fleets break through the Earth blockade and attempt to use this newfound weapon in a last, desperate attempt to defeat the Reapers and save the galaxy as we know it. Fleets of all races, soldiers of every kind, are united in this final stand.
Equestria, too, has sent what they can to aid in this final battle. Or rather, who, they can.
The Reapers have no idea what they have unleashed.
---
Warning: This story contains spoilers for ME3 and takes place during the ending of the series. This story is less approachable than the previous stories and may be confusing to those who are unfamiliar with the ME3 ending
---
Coverart is by Ziom05, on DeviantArt, and can be found here.
Chapters (2)