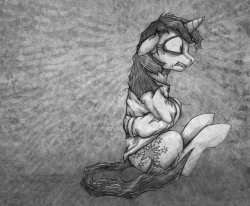 Twilight Sparkle has a lot of difficulty getting a good night's sleep. She has to keep it a secret from the ponies who care about her, because they might disown her. Worse, they might try to help...
WARNING: The first five or so chapters are, on reflection, properly grimdark. If this makes you run away like a puppy that just laid a brown egg on the new carpet, that's your prerogative entirely. Please don't tell me that I'm objectionable for having written it, though, because that's not very nice. Or accurate. At all.
The shiny new art is a commission by this lovely person, so do feel free to check her out for all your creepy-pony needs.
Chapters (5)