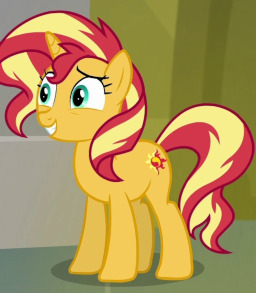 Hello there! It's a pleasure to meet you. I'm guessing you're here because you want me to tell you about… well, about how all this happened.
You know. This whole, 'turned into a fictional pony and smashed full-speed ahead into the plot of said piece of fiction' thing.
I know, I know. Kind of cliche, really. But let me just tell you, it doesn't feel cliche when it's your life.
So as I was saying, it's nice to meet you! My name is Sunset Shimmer, and this is the story of how I got transported to Equestria through this huge portal, turned into a pony that isn't even the most like me and loved it, and helped save Equestria and the world along the way.
Yay, me?
---
An attempt at a semi-realistic TF/Self-Insert, with a few twists.
Chapters (1)