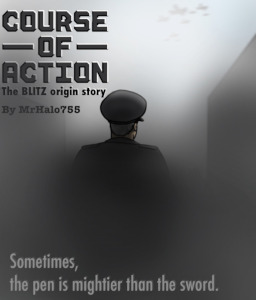 After years of conflict and chaos, peace was finally obtained when the human race finally defeated the last of it's foreign opposition, and instigated a new world order like nothing seen before. The human government uses a "new" form of government to create a near perfect and utopian world. However, like any other form of government, there are always secrets lying beneath the façade of perfection, waiting to surface and reveal the truth...
---
Major thanks to Desolate, Faceless Protagonist, BWubz, and Galactic Raincloud for helping me edit and proofread this!
---
The Dark and Gore tags are for some Dark themes in the story, and [maybe] some minor descriptions of Gore later on in the story. This is a Teen rated story, so expect a lot of Teen and some Adult geared content.
(While I have rated it Teen, the story, since I'm striving for extreme realism, may or may not evolve into the Mature rating, if you, the reader, or me, the author, deem it Mature.)
---
As an author, I crave criticism so that I may better improve myself and my story, and I would greatly appreciate it if you would at least leave a comment as to why you chose to dislike my story. This is not to harass or insult you, it's just so that I can see what you don't like about the story, and see if I can improve it. Thank you for your constructive criticism and cooperation, I really appreciate it.

---
Artwork for the story was made by me.
---
---
Chapters (2)