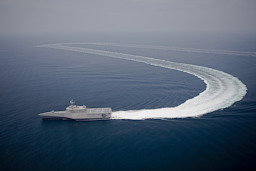 The USS Long Beach, the first (and only) ship of the ill-fated Flight II Littoral Combat Ship. She was lost with all hands in a massive squall on the night of December the 22nd, 2031. No trace was ever found, and no explanation has been derived in what many call the most mysterious seaborne accident in history. It baffles researchers to this day.
This is their story. A story of Honor, Courage, and Commitment, fulfilling every word of the creed they aspire to. Tossed into a world divided, consumed by friends turned enemies leading massive power blocs, the crew of the Long Beach must work to restore freedom and democracy, all in the name of the mysterious forces of gold and blue that sent them there in the first place.
So buckle your seatbelts and cast off your moorings. Set full sail and load your cannons, and when the vicious foe turns thine way, change not your course: let them steer shy.
Teen for sailor swearing and general grimdark of Equestria Divided, the lovely scenario postulated by Poor Yorick on Deviantart: http://pooryorickda.deviantart.com/
All AU setting credit goes to his brilliant design. I just do the ship part.
Chapters (4)