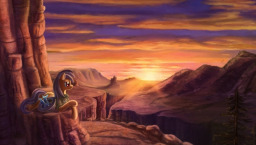 Source
Even the toughest of ponies have a soft side.
After her latest mission, explorer Daring Do takes a moment to rest and consider the meaning of her unique life. The last thing she wants is to be disturbed, but company can come from the most unexpected places.
---
Cover art by Tsitra360. Used with permission.
Chapters (1)