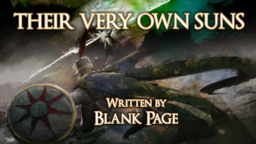 Five years ago, Nightmare Moon returned to Equestria and took it by storm. She imprisoned her sister in the moon, and Equestria fell into an Age of Darkness. She ruled with an iron hoof; her word became law. The Mare in the Moon became a grim reminder of what happened to those who opposed the new tyrant, and nopony dared oppose.
Except for one aspiring unicorn.
Twilight Sparkle, a mare shackled by the failures of her past, prowls the ruins of the old capital Canterlot, praying for a spell that can right what has been so horribly wronged. Buried beneath the rubble of the Royal Library, she finds a tome that might be the answer to her prayers.
A "Warrior of Sunlight"; surely he will be able to overthrow the wicked tyrant and restore Celestia to her rightful throne. Twilight can almost see the sun returning over the horizon. She just didn't expect this warrior to be so... jolly.
---
Set in Starlight's "alternate future" where Nightmare Moon reigns.
---
Chapters (15)