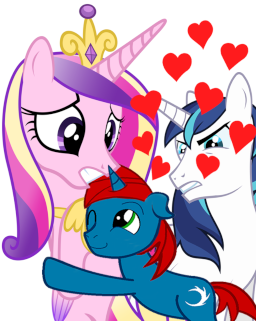 After returning from their lovely honeymoon, Princess Cadance and her husband, the newly crowned prince, Shining Armor, return to Canterlot to see that their home is not the same as they left it. More questions pop up when Cadance finds a mysterious pony hidden in her room.
Who is this pony? Where did this pony come from? What was the pony doing in the Princess of Love's room? And why is this pony being really affectionate with Cadance? Join Cadance as she finds these answers to these questions on this emotional roller coaster, that will have the Princess of Love question how much does she truly know about what her title represents?
Story takes place after The Element of Hate, so there will be references. There will be some grammar and punctuation errors,

but don't let that stop you from reading. I accept and appreciate constructive criticism.

Chapters (3)