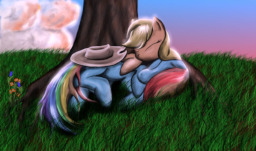 Applejack and Rainbow Dash need to get ready for a very special day, but it seems like everything and everypony is conspiring against them from getting anything done. Will the power of friendship be enough to get past all the annoyances they'll have to face? I got twenty on no. Hangover's are really the least of their problems on this day.
My entry for the AppleDash fic contest. I'm not a huge fan of shipping, haven't really read any romance fics besides the bits in Fallout: Equestria, though I guess I'll start reading them; I've only seen four romance flicks in life; Titanic, The Notebook, the one with Channing Tatum and the weird thing his cheek does, and Cast Away (there has never been a truer love than Tom Hanks and his single ball). Regardless, I really wanted to write something out of my comfort zone, I hope you enjoy.
Art work:
'Appledash - Sunset' by Leyanor
1/21/13: I doubt this story will be continued anytime soon, let alone actually finished. Sorry, but I lost interest in it long before the contest ended.
Chapters (1)