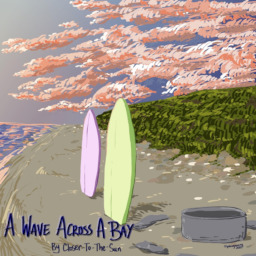 This story is a sequel to Cloudbusting
---
"There must have been a moment just before you hit the water,/When you were filled with a sense of peace and understanding./With the wind in your hair and the light in your eyes,/As you realized you were finally escaping." -Frank Turner, 'A Wave Across A Bay'
Prequel: "Cloudbusting"
At her request, Silverstream wants Sandbar to teach her to surf. The pony is more than happy to teach, but he hopes that it's something that Silverstream can handle. Will the hippogriff be able to get the hang of being out on the water?
---
Cover art made by Pitangawang
Pre-read and edited by Striving for Harmony.
Chapters (1)