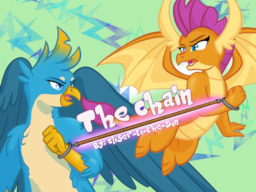 "And if you don't love me now,/You will never love me again./I can still hear you saying,/You would never break the chain./Chain keep us together." -Fleetwood Mac, 'The Chain'
Smolder and Gallus have always had a contentious relationship, which included arguing, insults, and property damage. It has gotten to the point that Headmare Starlight Glimmer to rectify this issue with a very unorthodox method: by cuffing the two students together for a week. Will Smolder and Gallus be able to survive the week in one piece? Or will the school be able to survive Gallus and Smolder?
---
Cover art made by Nytewell.
Chapters (1)