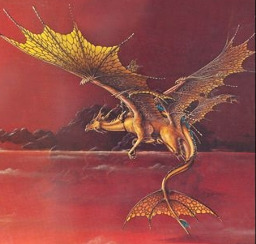 The 7th pass of the Red Star over Pern heralded the beginning of the dragon's ancient duty to the people of Pern. Rider and dragon both, risked life and limb to meet their ancient foe in aerial battle, the mindless, silvery Thread which threatened to consume all life on their planet. Every fighting dragon is needed to sear the Thread in the sky before it can reach the ground, but mid-battle, an injured Bronze, a precious, newly mated golden Queen, and their riders, do not return to their Weyr from Between, and are instead transported to another world entirely. How will they cope, especially once the Queen lays her eggs. Only time will tell.
-----------------------------------------------------------------------------------------------
Based on the brilliant Chronicles of Pern series by Anne McCaffrey, a brilliant author of a brilliant series. I recommend it to anyone who likes fantasy, sci-fi or dragons :)
None of Anne McCaffrey's books take place during the 7th Pass, so the human and dragon characters are all my own creation.
For the purposes of this story, I'll stick to the show Canon up to the movies, I won't be using major story points from season 8 when it's out.
Chapters (4)