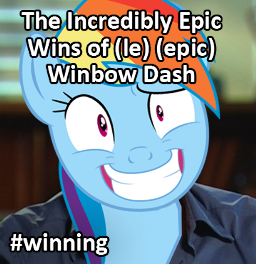 Rainbow Dash is the most epically winning pony there is. She wins so much, she had three epic wins before she even woke up. And with her best friend le Pinkie Pie, how could she ever possibly stop winning...epically?
Twilight thinks she knows how, and the answer isn't a good one. Will she be able to help Rainbow Dash before her epic wins become an epic... fail?
Part of (le) Winningverse (because I said so).
Comic illustrations done by (the awesome) Chromosome.
Cover art by knighty.
Chapters (1)