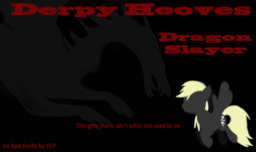 Have you ever wondered why Derpy Hooves seems to always be around? Always hiding in the background, watching, spying, almost as if she has another purpose.
Almost as if, Derpy Hooves is just an alter ego...
A delivery pony with a sense of adventure about him, is about to find out the truth behind those yellow eyes. An adventure that will take them beyond the lands on Equestria, and to a perilous conclusion.
This story contains adventure, humor, action, lessons of friendship and peril. And of course bad ass Derpy.
Chapters (14)