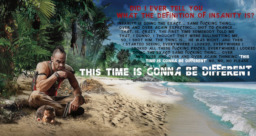 Have I ever told you the definition of Insanity? It is doing the same fucking thing, over and over and over and over again. Heh, maybe I fucking crazy then, but there are all these asshats that think they are the kings. That they had their fingers on the pussy trigger. But down here, I rule.
So Vaas is in Equestria after he died. Will he make some new friends and throw down his old ways? Maybe this is his one and only second chance...nah, that would be boring and nothing would happen.
AN: rated T for a lot of swearing. Also, tags will be added as they become relevant.
Chapters (4)