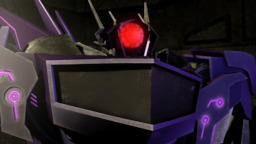 At the end of the war, after Team Prime defeated Unicron and restored Cybertron, Shockwave had become wanted a war decepticon criminal for his various cruel experiments and creations during the war, including the Predacons, the Forged, and generally became a fugitive all over cybertron. Knowing he would eventually be found out, Shockwave retreated to his lab to activate an old project of his, a space bridge off of Cybertron that lead to an unknown world in the far outer reaches of space. Running out of options, Shockwave uses the space bridge, and winds up in a strange new world filled with strange new creatures. Now, Shockwave has the ability to study these creatures and experiment in peace, and potentially... Even befriend them. Of course, as long as it is Logical.
7/29/22: Featured boyos.
Note: This story includes lore from the Transformers: Prime series, Transformers: Cybertron Trilogy, and IDW comics.
I do not own Transformers or MLP.
Chapters (5)