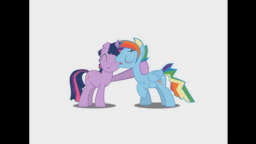 Source
Duskshine and Rainbow Blitz- Two good friends among six, and soon perhaps more, If Blitz can drum up the courage to actually tell Dusk about his newly grown feelings.
And with Dusk now a prince, perhaps with all the change happening around them, It might be the best time to bring these feelings to the front.
Dared to be written by Ruirik. Not perfect, so lets throw it out and see what everyone thinks.
Read by myself on my own YouTube Channel here: https://www.youtube.com/watch?v=bPIutGNF168
Chapters (1)