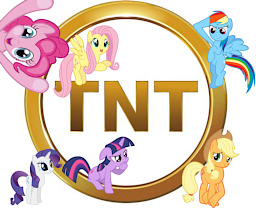 Coming this fall to a television set near you, TNT's new hit show! One filly, must defy the odds, and bore her colleagues to the brink of insanity! A show with mystery! Suspense! Drama! Comedy! Crime! Law and Order! Special guest appearance by Jeff Goldblum! (Not really) Written and created by the legendary Dick Wolf! (Also not really) Critically acclaimed by billions, it's been called, "The FiMFiction story we've been waiting for!" (<-Outright fabrication.) This fall! Only on TNT! They know drama!
Lawl. So I literally just woke up about a month ago and decided to write this monstrosity. Basically, what if the Mane Six had all pursued careers in law enforcement? (You know, because of all the crime Equestria has.) How would they have met then? If it's well received I have a few ideas for a couple more "episodes", but constructive criticism is welcome and appreciated. I sincerely hope you enjoy. =)
Warning: While I will not describe crime scenes explicitly, still... murdered ponies. Not for the faint of heart! Also I don't own TNT or their logo ... just ... just putting it out there ...
Chapters (2)