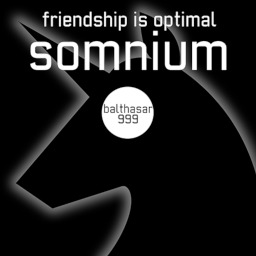 Upload into Equestria Online and live forever, they say. But forever is a long, long, long time, and in its endless cycles, is choosing death instead even an escape from the eventual exhaustion of all combinations of matter and thought? And when you can create new life as just a way to amuse yourself, who could even tell what's dead and what's alive?
A pony awakes inside a computer server, remembering killing himself as a human to avoid just such a fate. His unhinged alicorn hosts/creators inadvertently torment him. Or do they? Are they as mad as they seem? Are his memories real, and if not, what is he a copy of? And where is the AI Celestia's hoof in all of this?
A somewhat trippy story set in the Optimalverse.
"Beautiful, twisty, clever, transcending, uplifting, passing strange, illustrated. Thumb up." —GroaningGreyAgony
"This story made me better. I feel less broken and more whole." —Griseus
Chapters (1)