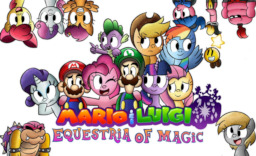 Source
Mario & Luigi's journey has been the ride from their adventures. From the BeanBean Kingdom to stop an evil witch, going back in time to help their Baby counterparts to stop the Shroob invasion, being inside of Bowser to stop a bean whose Fury with his Buff Pig buddy to conquer both kingdoms with the Dark Star, exploring the realms of the Dream World to save the Pi'illo Kingdom, and teaming up with a thin 'Mario' from his world filled with Paper to stop Bowser with another Bowser from the Paper World.
Thanks to a magical yet rainbow Warp Pipe, Mario & Luigi has entered the world of Equestria, meeting 6 ponies and a baby dragon to explore the world of Equestria/Ponyvile and the meaning of Friendship. Meanwhile, Bowser learns that Mario and Green Stache have entered a world filled with Ponies thanks to Grogar (who has arrived at Bowser's Castle), making a partnership to take both worlds over. This... is... an Equestia adventure with magic!
Story takes place after the events of Paper Jam and after MLP Season 8.
NOTE: I have permission from BoredRabbit to use the Cover Art for this story. While he has made the Cover art for his cousin, I have permission to write the story as he did state that anyone can write fanfic of his "Mario & Luigi cover art crossovers" as long you have permission from him.
Chapters (3)