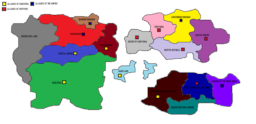 Fredric was an Inventor and a Leader but for what use of his Leadership and Inventions if the same Inventions we're the one responsible for their Nation greed for power.
But good thing he can make it up for leading the suffering Griffins to overthrow their corrupt government and help them thrive as their new King....what??
This is a Alternate World so the Map is A Little Different but some event is similar and also the OC have the knowledge of Modern Technology but will refuse to make weapons that is modern so the weapons that will be made is set on 1934-1944 so no "Nukes"
Also this have a slight shipping for my OC and The Two Royal Sisters so yeah deal with it. And NOTE that if you don't like it DON'T read it or even comment about it!!!!!
Chapters (1)