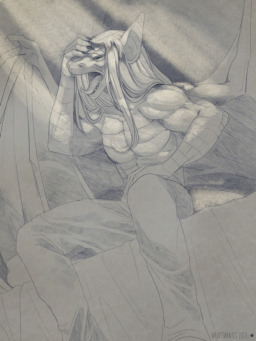 This story is a sequel to Silas Epista
---
Silas Epista has done it: he has destroyed a Mega-Warren and saved his friends from the clutches of some rather unsavory mongrels leading that slave den. But now an even greater threat looms on his endeavors to follow through on Io the Ninefold Dragon's wishes for bringing him into the world of Equis; the inevitable usurping and killing of the current Queen of Dragonkind, Tiamat.
There will be a plethora of hardships and certain realizations that will haunt his every action, and for every drop of blood spilled, it's starting to seem like a part of him is leaving as well. And with the recent developments pertaining to the Four Dragons and that one weird dream that keeps replaying in his head, Silas is against the clock in trying to figure out what all these visions and undertones mean as he tries to keep his relationships afloat despite his unstable personality and mindset.
What real threats await him? They'll be making themselves known all in due time.
This is the second installment in the Defiled Crown Trilogy.
Chapters (5)