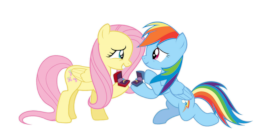 Source
Rainbow Dash wants to take her marefriend Fluttershy out to a nice meal on Hearths Warming Eve, she'd got something important she wants to tell her. If only she can get up the nerve to get the words out.
Written for SuperWriter2329] for Jinglemas 2022 based on the prompt I would like to have Rainbow and Fluttershy on a romantic date in Cloudsdale, not the EQG one. You can put in some funny and comedy elements in there, but not too much. Also, make it so that the two kissed at the end of their date.
Many thank's to Rixizu for suggestions.
Chapters (1)