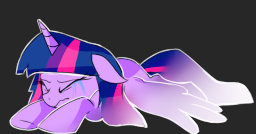 Source
I enjoyed my time in Ponyville with my friends, the very first friends I ever made. I enjoyed the good times, and learned from the bad times. We did so much, helped so many. I became a princess in time, not realizing exactly what that meant for me.
It's been 150 years since I first came to Ponyville. My friends have all passed from this world, leaving me behind.
Do I even have a reason to keep going?
Cover by kajitanii.
Chapters (1)