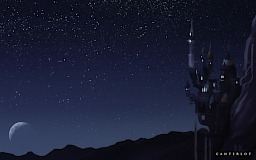 Red is an orphan who was raised by Princess Luna after he ran away from his original home, north of Canterlot. He suffers heavily from insomnia, and spends most days avoiding the other Canterlot ponies. They treat him -differently- than most other ponies.
Fayla, the coffeeshop owner down the street from his flat has been the only pony other than Luna he has held a conversation with.
WIll he gain her trust, and will he find out more about his past?
Chapters (2)