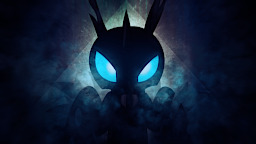 Source
Changeling. The word alone is enough to send ponies into a panic, and sew fear and suspicion amongst any herd. But just what is a changeling? Are they monsters? Demons? Or are they something at once far simpler, and much more complex. What does it mean to be a changeling? And what is a changeling to do when even she herself isn't sure of the answer?
----------------------------------------
These are just some past events in the history of an OC of mine. I've been considering writing them up as some sort of story for a while now, and I've decided that now would be the time. Expect them to be very disjointed, and not have any chronological ordering at all.
Chapters (1)