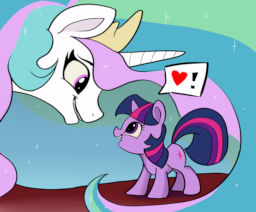 This story is a sequel to Not That, Twilight!
---
The Princess of The Sun may be loved and respected, but that doesn't mean she was treated as equal amongst ponykind. Every year when Hearts Warming Eve arrives, all Celestia can do is watch ponies laugh, exchange gifts, build snow ponies, and sing carols together from her window. She wishes she can join them, but ponies will likely get all awkward if she came by just to say hello. She gets only one present from Cadence.
This year though, her student changed things a lot.
Chapters (1)