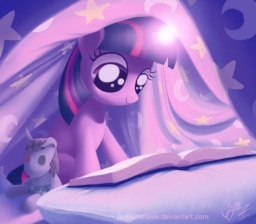 Source
A young Twilight Sparkle has a whole new world opened up before her. It's full to the brim with anything she could ever want to know, and a plethora of new friends just waiting to meet her.
Cover art by JoelleTheNose over on deviantart. Their art is really excellent, give it some love.
Many thanks to TheMyth and Lucky424 for looking it over for me and convincing me it's worth posting!
Chapters (1)