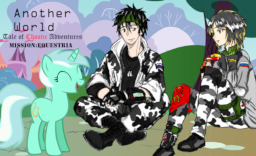 "Wolf pack", a "special forces"(while being special in somewhat not good way) team with new additions is sent on strange reconnaissance mission to, get this, another world!
With unforeseen consequences unfolding at rapid pace those 6 brothers(and sisters) in arms will go through a series of fun, strange, sometimes grim or dark, maybe random and even disturbing adventures filled with action, drama, songs, exploration and various music all while sorting things out with their relationships and each other... IN EQUESTRIA.
One team. One strange mission. One colorful world. A double rainbow worth of adventures. And don't forget about that one, mint colored you-know-who!
---
Rated Teen for violence scenes and strong language that comes in at least FOUR different languages.
Additional tags will be added if needed.
Chapters (6)